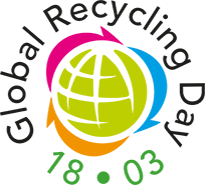 You can make small changes in your day to day life to help our planet by recycling more.
Find out more here https://www.globalrecyclingday.com/ 
What has Wakefield College been doing?​​​​​​​
Over the last 3 years (19/03/2018 to 18/03/2021) the College has recycled 88.07K kg a total of 23% of total waste.
Although the recycling we do in College is mainly cardboard and paper, the waste we send to our contractor is separated and recycled for us.